Latinamerica Meeting Magazine selected Panama City as one of the best destinations for events
26 September 2022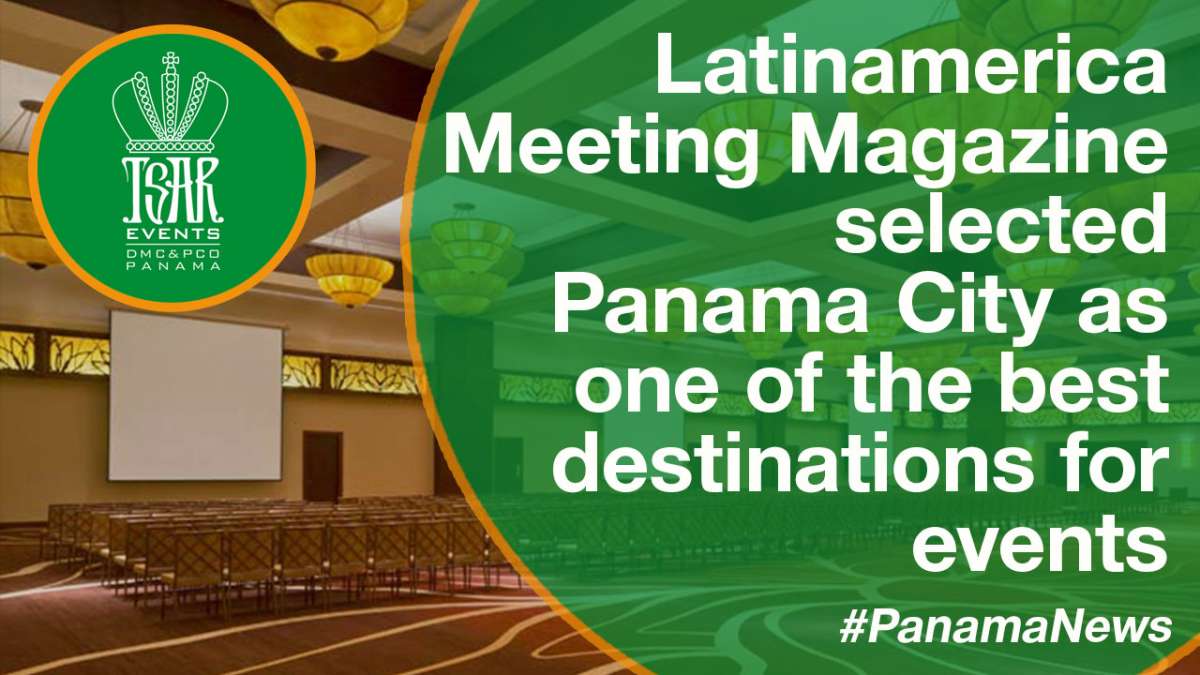 The Editorial Board of Latinamerica Meetings has made a selection of The Best Destinations for Events that have stood out for their leadership, infrastructure and service to host events and grow the meetings industry, Panama City being one of the selected destinations.
Panama leads a comprehensive strategy towards the meetings and conventions segment, where we focus on offering corporations and associations tools and incentives that guarantee the success of their events. It is through these initiatives and the competitive advantages offered by our country that it has been possible for the isthmus to become the venue for world-class events such as the 2023 World Robotics Olympics or international fairs such as TravelMart and FIEXPO, which selected us as its headquarters for three consecutive years from 2022 to 2024.
In the September - October 2022 digital edition of LM Latinamerica Meetings, a special report on the destination and other selected ones will be published, as a tribute and in order to share with the readers of this international publication, everything that Panama has to offer .
It may have taken a long while, but the Central American gem of Panama has finally lifted all of its Covid travel restrictions, which kept thousands of travelers from visiting during the pandemic. Essentially, they have returned their pre-2020 entry guidelines, allowing for the resumption of normal tourism. As of this week, everyone is welcome, vaccinated or not.
<
PRIOR TO TRAVELING:
ENTRY REQUIREMENTS
No entry restrictions.
Travelers do not have to present negative test results.
DURING YOUR VISIT
It is not necessary to wear masks outdoors or indoors. The use of a mask is only mandatory in:
​Public transport
People working or handling food
Public or private health facilities
We encourage all travelers to respect the social distance of 2 meters.
Business meetings are admitted with 100% capacity, if all participants have their vaccination card complete.
FOR YOUR SAFE RETURN
We encourage all travelers to check travel restrictions of your destination country and airport.
COVID-19 testing is available for Departing Passengers from Tocumen International Airport.
The center is open from 5:00 AM to 9:00 PM.
The cost of the COVID-19 rapid test is $50.00 USD and the result takes around 40 minutes.
The service is first come, first serve, so we encourage all passengers that want to get tested to arrive with enough time before their flight.
If you need anything in Panama Republic, we will be happy to help you to plan and operate your event or program.
Please, look at SAMPLE PROGRAM that we have prepared for you to show what can be organized for your clients in Panama.
Just let me know and we'll prepare tailor made program for you to face all your individual requirements.
Tsar Events Panama DMC can help you with your clients who wants to have private tailor-made program while their ship stops in Panama port. We provide all types of Ground Handling Services for Cruise Lines in Panama ports.
For Groups & Individual guests arriving to Panama by Cruise ships we will help you with:
Tailor made shore excursions, cultural sightseeing, outdoor adventures, discovery tours
Private Transportation & Guides for tailor made itineraries (WE OWN OUR OWN FLEET)
Delightful lunch & Dining, Dine around, Gala dinners, Catering services
Special Interest Tours
Hotel sugestions & booking
Limousine & Private Cars & VIP Sevices
Musical Enterainement & Performers, Shows
Co-ordinating pre and post-cruise stays (hotels, transfers and assistance)
Other Destination Management Services