Hotel of the week: Riande Urban Panama Hotel
09 February 2023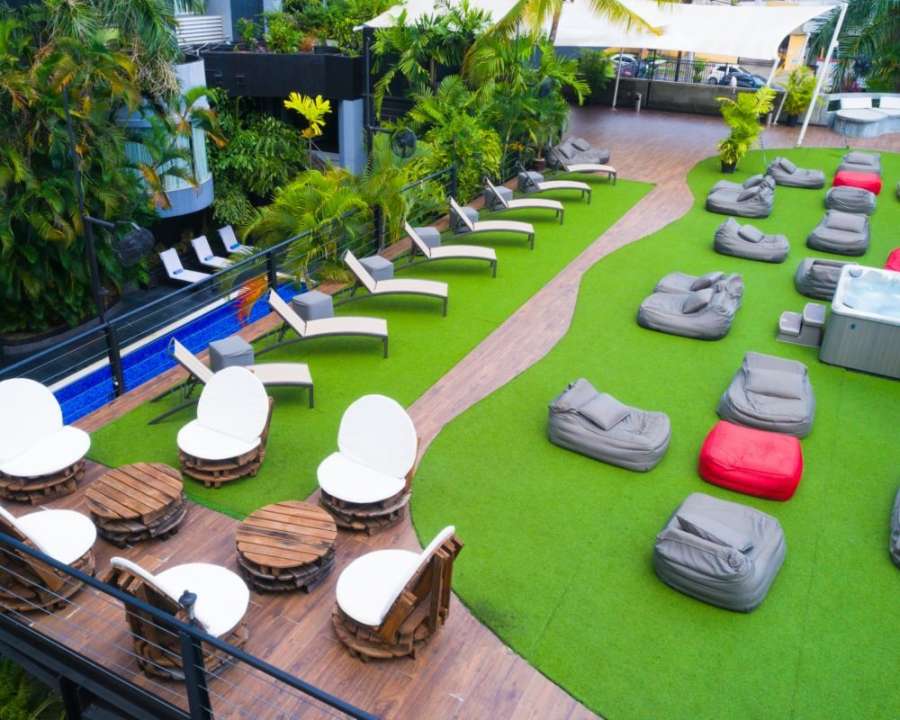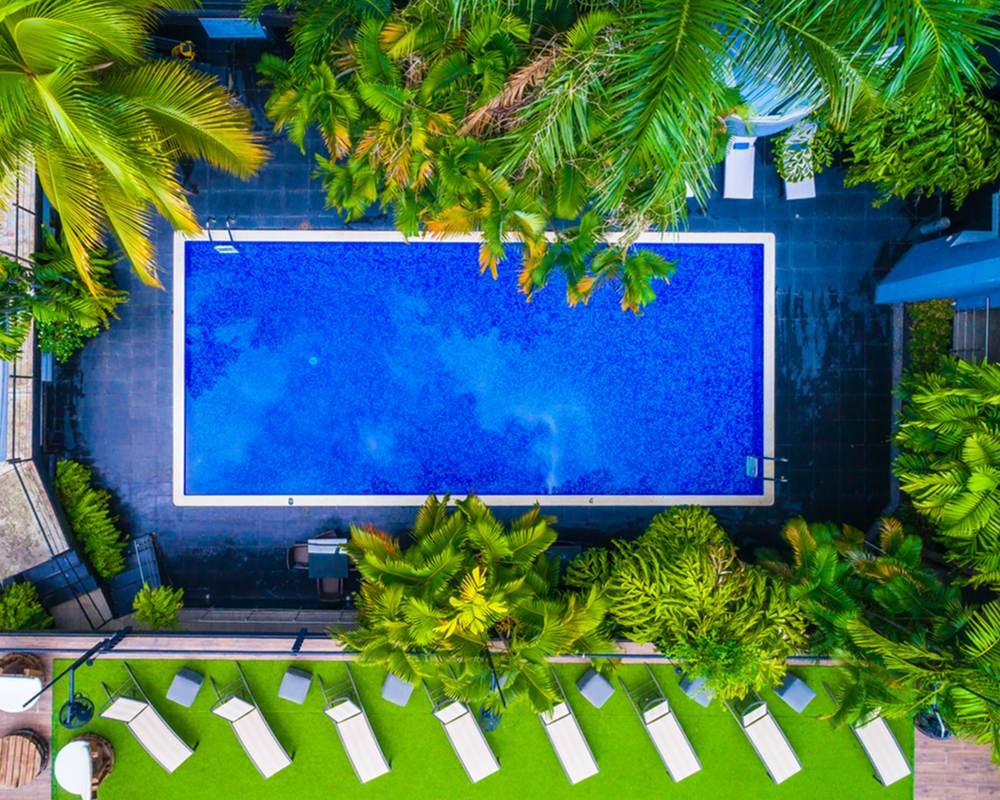 Idyllically located near the scenic canal in the metropolitan city of Panama City, Riande Urban Hotel enjoys a prime position close to an extensive array of notable sites such as Crown Casino, Via Espana, Multiplaza Pacific, Multicentro Panama, Albrook Shopping Mall, and Miraflores Locks.

ACCOMMODATION
Presenting a chic comopolitan oasis, Riande Urban Hotel is a show-stopping, fashionable inn with guestrooms that house a wealth of modern amenities like LCD TV, premium cable channels in high definition, free Wi-Fi, in-room safe, air conditioning with climate control, plus blackout curtains. What's more, invaluable essentials in the form of refrigerator and iron/ironing can be received with just a simple request, which is ideal for extended bookings. Bonuses consisting of complimentary newspaper, designer toiletries, hair dryer, and desk come in handy while spectacular balcony contributes to the overall appeal.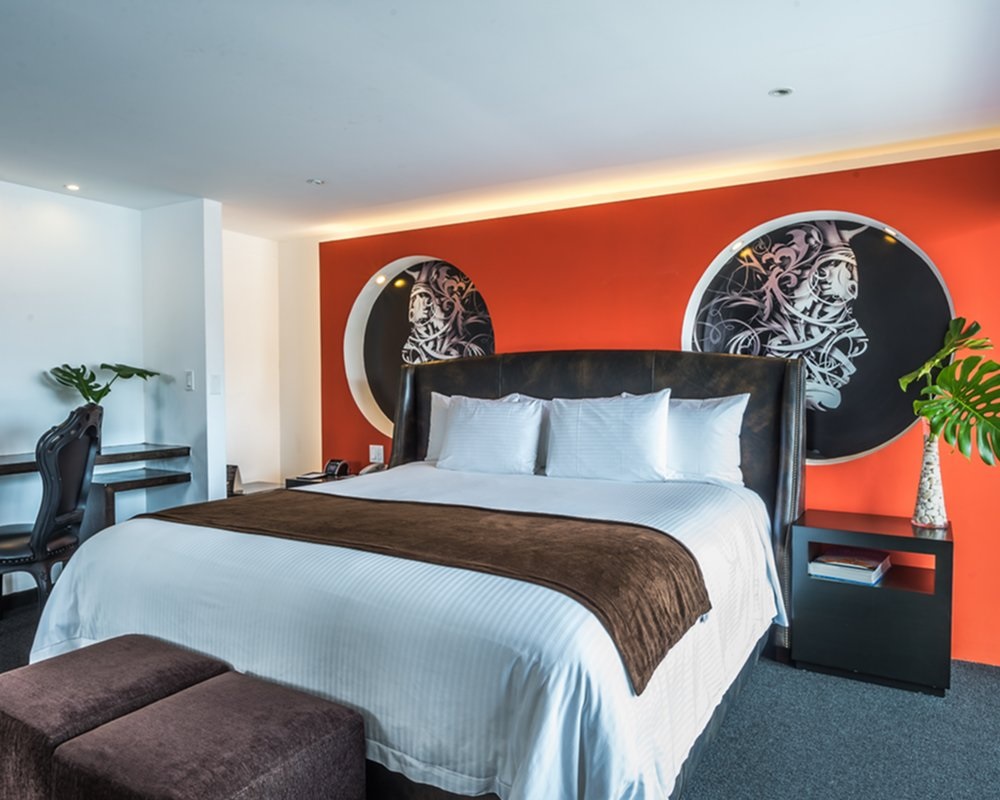 HOTEL FACILITIES
In addition to delicious complimentary breakfast served in the sophisticated restaurant, patrons of Riande Urban Hotel can savor a fantastic meal in the comfort of their abode thanks to prompt 24-hour room service. Moreover, this three-star establishment boasts a magnificent outdoor pool area lined with sun lounge chairs and colorful light fixtures, hip bar/lounge for an assortment of tasty libations, top-of-the-line fitness center, not to mention fresh coffee/tea and free newspapers in the sleek lobby. Vacationers also appreciate well-stocked gift shop, outstanding clubhouse, fabulous patio, together with around-the-clock front desk assistance. For those traveling on business, spacious banquet hall, technology support staff, professional conference center, proficient business services, exhibit space, audiovisual equipment, in conjunction with three top-notch meeting rooms promote productivity and a successful trip.

TRANSPORTATION
Panama City's airport is merely 3 miles away from Riande Urban Hotel while a lively nightlife scene, impressive regional attractions, and expansive shopping plazas are situated nearby. Furthermore, those traveling by vehicle are privy to complimentary parking on the premises.
HOTEL ROOMS
Standard Urban room: Located on the lower floors of the building, our Urban rooms provide all the comfort you need during your stay. Rest in our brand beds for a restful sleep, the bathrooms have a modern aesthetic, where the glass walls give way to a relaxing shower and the rest of the comforts that our firm offers, will make you feel at home.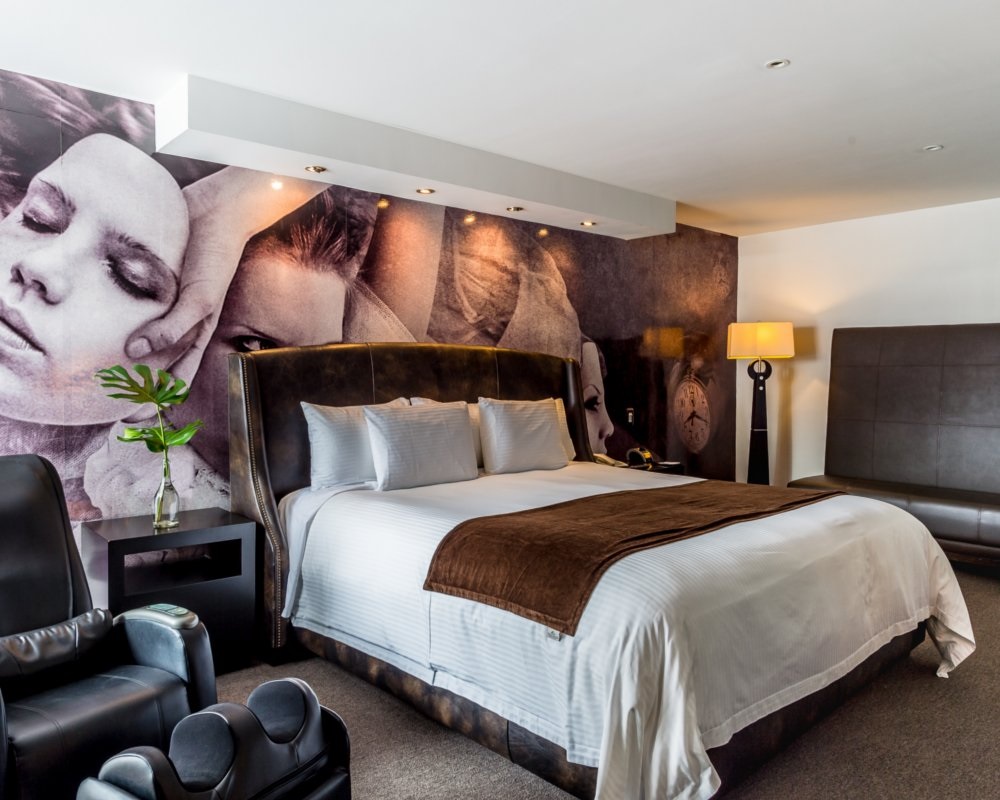 Executive room: Our executive rooms are located on the upper floors with a beautiful view of Panama City. Rest in our extra comfort beds, these rooms provide superior comfort and ample space to relax or work. Sleek modern bathrooms feature bathrobes and slippers for added comfort.
Suite room: Our Suites rooms are spacious, very comfortable and have beautiful views of the city from their private balcony, with double the space of our Urban rooms. Specially designed for long stays, business or simply if you like more space and additional comfort. The rooms are composed of a King size bed and a living room with a sofa and coffee table, work area and closet. The bathroom is elegant built with imported materials and amenities offered by our firm, bathrobes and slippers.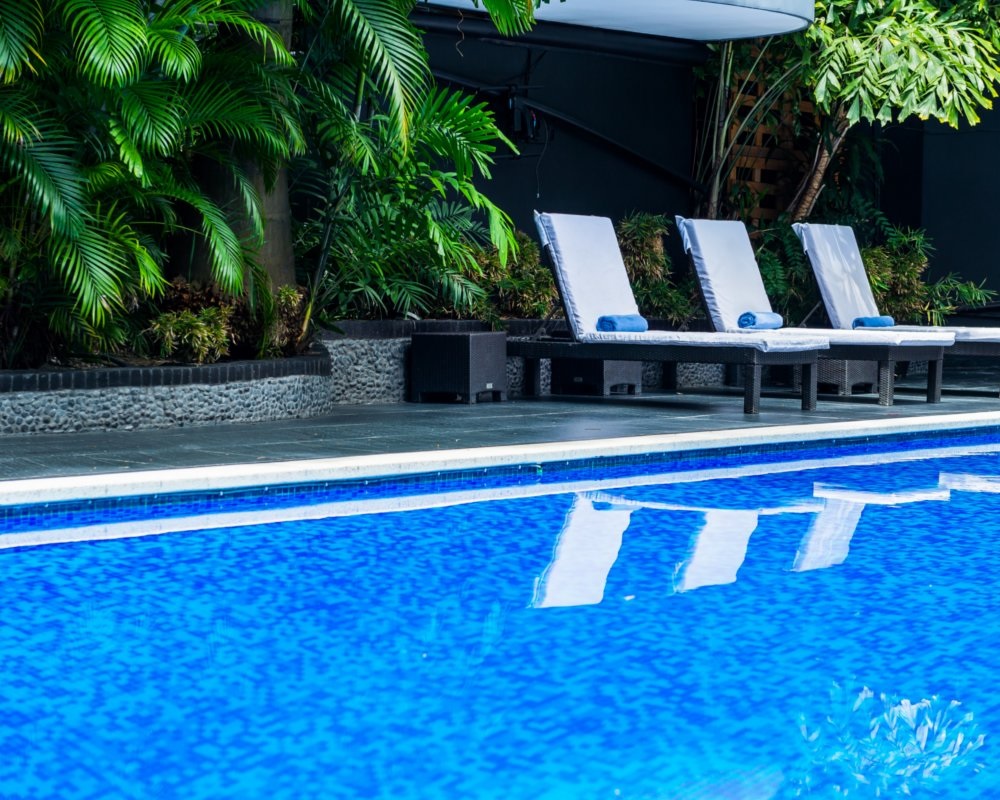 Pool & Jacuzzi: Our pool is located just steps from the elevator into our tropical oasis outdoors space surround by the Panama skyline. The refreshing waters of the pool are perfect for invigorating morning exercises and refreshing dips at the end of the afternoon. In addition, you can relax in the jacuzzi after a long day at work.
Pet Friendly: We are a "Pet-Friendly" hotel, just like you we love our pets, however, we must establish rules that allow the happy coexistence between the guests and the pets that visit us. It is $25 per night per pet. The maximum number of pets per room is 2, this varies according to the size of the pet, if it is a large pet, only one pet per room, only in some room categories pets are allowed, check before booking. When making your reservation, you must tell us that your pet will accompany you if it is possible to attach a photo of your pet and information about its breed, size and current weight. That way we can assign you a room suitable for your needs.
You are responsible for your pet during your stay at the hotel and out of respect for other guests, their presence is not allowed in closed areas such as the restaurant, lobby bar, lobby and inside the pool. In outdoor areas such as gardens and swimming pools, the pet must always be on its chain. (To avoid bothering other customers and for security).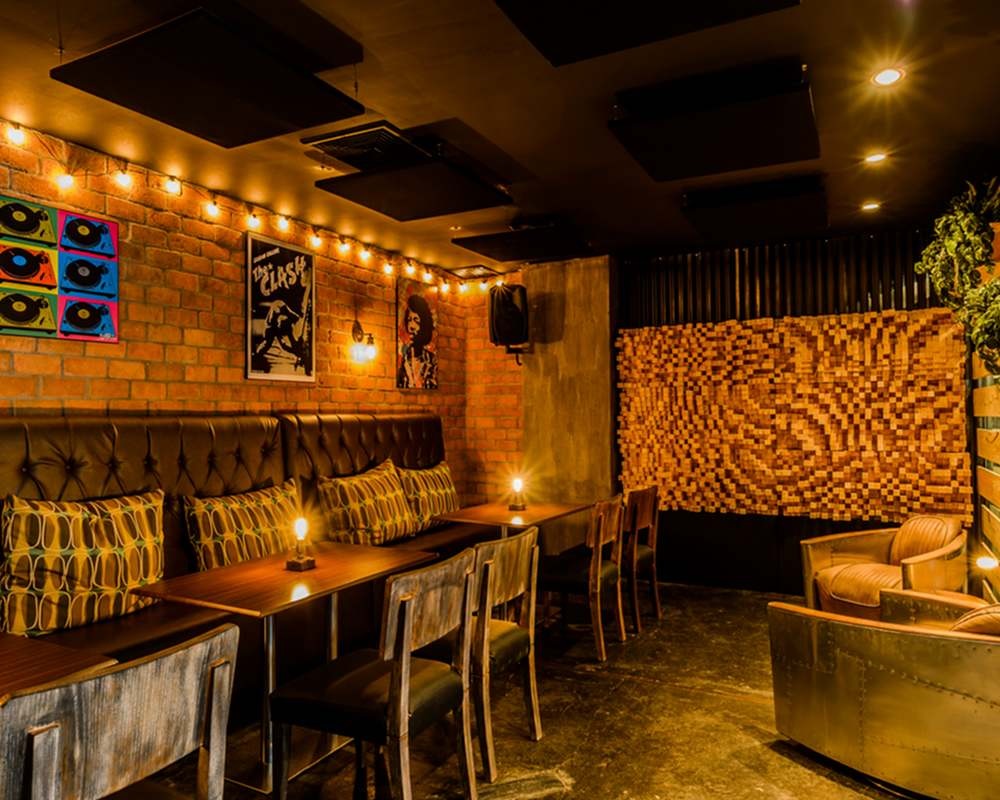 SOLO RESTAURANT
At Solo Restaurant we use local, fresh and seasonal ingredients to honor Panamanian cuisine along with the Chef's signature mediterranean soul. We do accomodate to special dietary needs upon previous requests.
STAY BAR
Located in the hotel lobby, it is a cozy meeting place with minimalist decoration. This elegant and sophisticated lounge bar offers an exceptional ambiance for afternoon cocktails that can be accompanied with delicious appetizers.
Inside you can enjoy the transmission of your favorite sport or play a game of billiards.
The outdoor terrace is an excellent place to enjoy the tropical climate while you enjoy some of our signature cocktails and fresh air.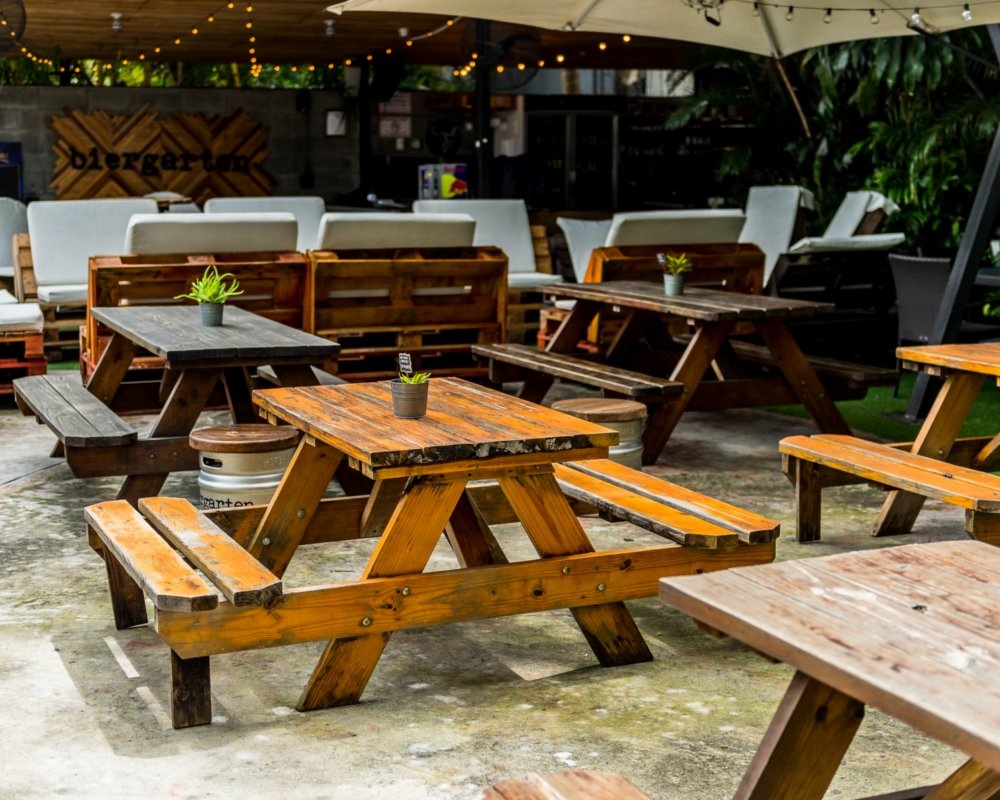 BIERGARTEN
An outdoor tropical oasis in the middle of the concrete city, the Biergarten is a local hot spot for local craft beers and a wide selection of imported beers and great food options. It's a relaxing and cozy meeting place within the city, ideal to share and listen to good music.
Taste the best craft, national and imported beers accompanied by an excellent cuisine in a relaxed casual spot.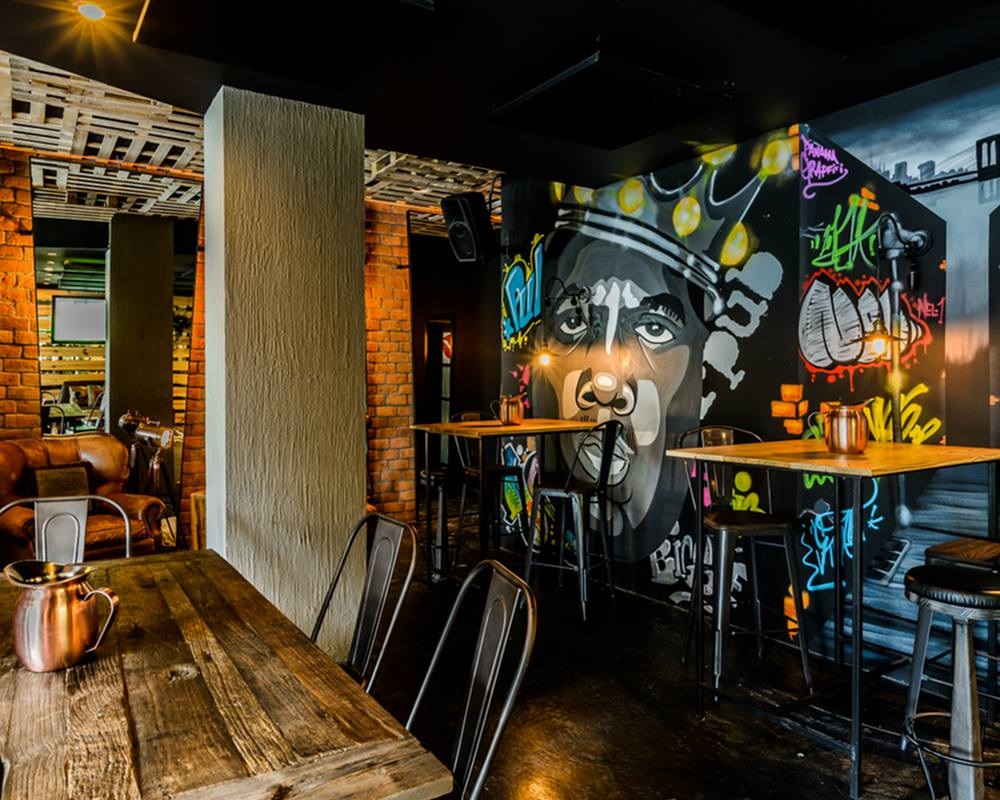 BIERPUB
Spacious and warm, Bierpub a local hot spot, where you can enjoy and have an amazing local experience, with our mixology laboratory that elaborates creative drinks, serves craft beers and delicious tapas in a stylish and cozy atmosphere.
Perfect place for afterwork drinks + tapas.
ROOFTOP TERRACE
Rooftop outdoor terrace with an area of 320m2 and capacity between 140 and 200 people according to the chosen layout. Located in an open area with natural light and easy access from outside and from the hotel. Ideal for tropical outdoor weddings, parties and expositions.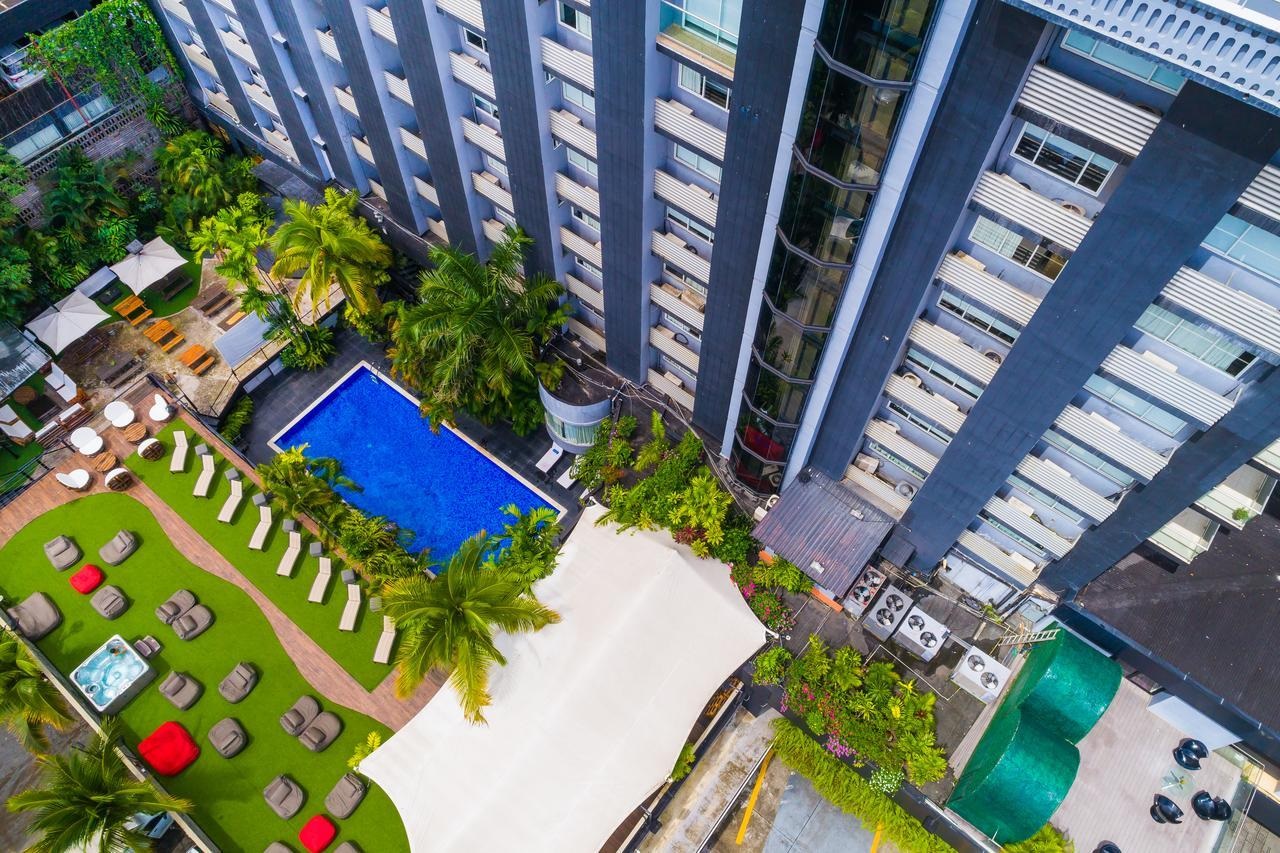 BRAND HISTORY
Riande Hoteles Group history begins with the Hotel Riande Urban, founded by Don Ildefonso Riande Peña (RIP) and wife, on November 14, 1969, being one of the first and most important hotels in the city of Panama. Years later, the Hotel Riande Aeropuerto was acquired, with a strategic location just 3 minutes from the Tocumen International Airport. Today, 52 years later the chain Riande Hoteles, symbol of Panamanian hospitality, maintains its leadership and philosophy established by its founder, Mr. Ildefonso Riande; to whom an extraordinary vision is attributed.
Currently the hotels continue with a family administration and maintain their tradition and infrastructure with a new and dramatic remodeling design made in 2013 which represents the launch of a new and modern branding for both hotels. In 2019, Riande Hoteles will celebrate 50 years of experience in the Panamanian hotel industry!
MISSION: "Hospitality professionals, passionate about service, committed to the full satisfaction of our guests, the generation of shared wealth and corporate social responsibility."
VIEW: "Excellent hosts, we exceed the expectations of our guests, creating magical moments and memorable experiences."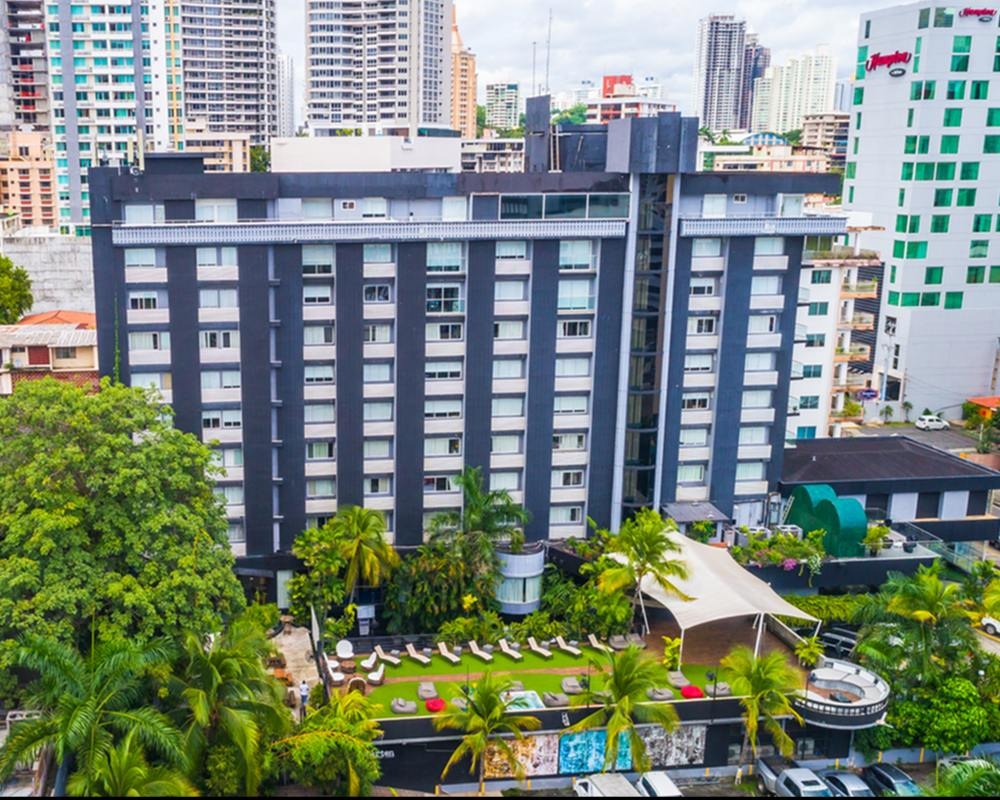 HOTEL VALUES:
Innovative leadership: We are proactive and creative people, we break paradigms, we think differently, we see problems as opportunities.
We delight our guests: We love working with and for people, we are aware of their needs and we satisfy them in the best way.
Commitment and belonging: We always give the best of ourselves, we are proud to belong to the Family of Riande Hotels.
Teamwork: We are aware that each of us is a link in the chain of success, we do things with collective efficiency.
Integrity and Honesty: We are honest people with ourselves and with others, we promote respect for other people's goods and we tell the truth.
Environmental Responsibility: We are people committed to the conservation of the environment, we promote sustainable actions on the part of our guests.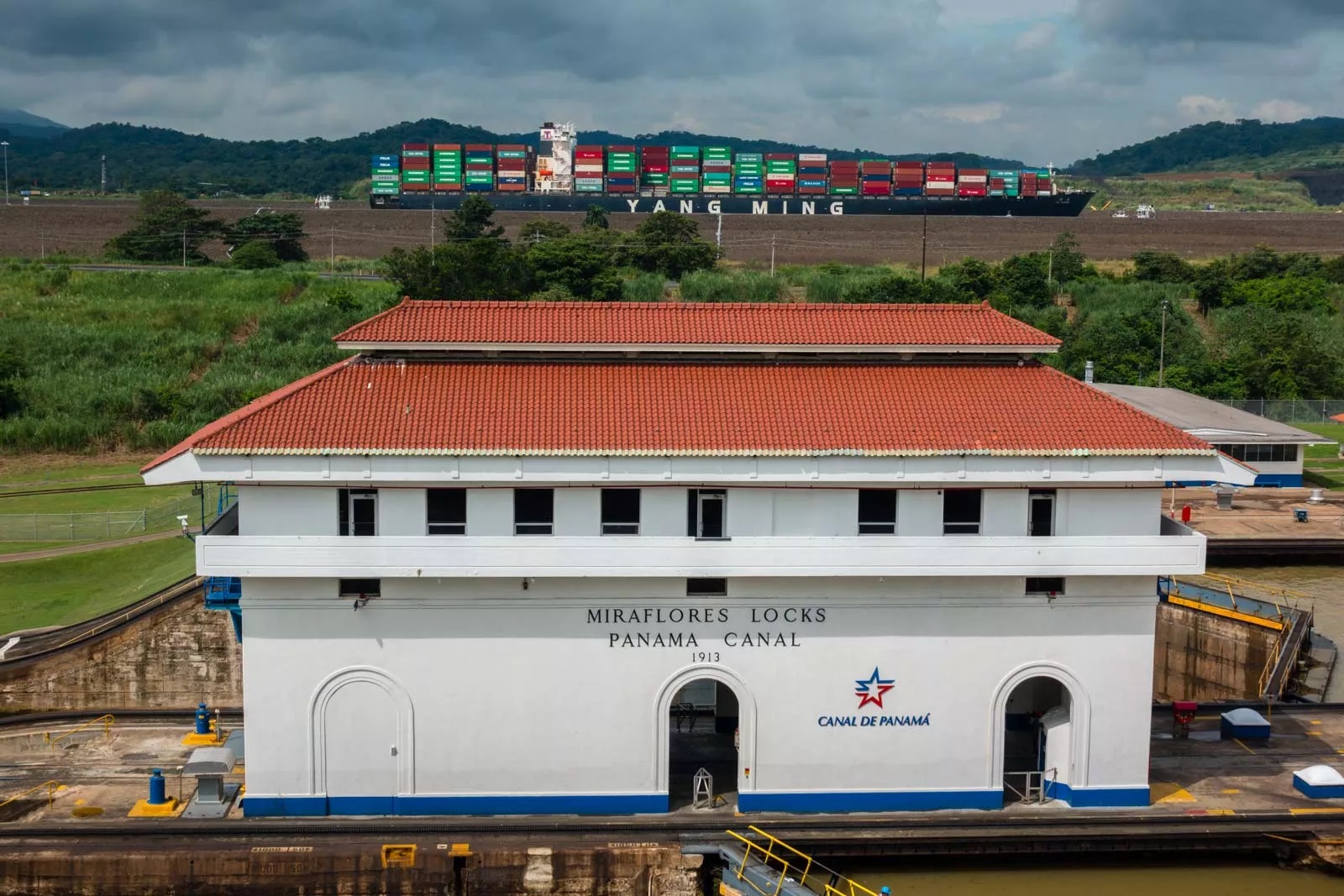 WHY PANAMA?
Panama is the most advanced country in Central America, best known for its Interoceanic Canal, for its Banking Area, and for its Free Zone.
It is a beautiful and exotic tropical paradise, two and a half hours from Miami, located on a narrow strip of land that connects North America with South America.
Panama is located in Central America, bordering on the southeast of Costa Rica. There are daily direct flights to Panama from Miami, New York, Los Angeles, Houston, Atlanta, South America and the Caribbean. Traveling by plane to Panama from Miami takes 2.5 hours and most cruise ships also disembark at its ports.
Panama has received the highest rating in tourism security by the world-renowned Pinkerton Intelligence Agency. The stability of the government has been characterized for decades and the local population sees tourists and foreign investors as friends who help in the development of the local economy.
Unlike its neighbors, Panama is not affected by hurricanes or earthquakes. Additionally, Panama has different types of climates ranging from the cold in the high mountains to the heat of its beautiful beaches in the Pacific and Atlantic oceans as well as the tropics in its forested areas.
The temperature is usually warm in the lowlands throughout the year with high temperatures of 90ºF and low temperatures of 72ºF. The temperature in the mountains is much cooler and the rainfall is more intense on the Caribbean side and less on the Pacific coast side, which is where Panama City is located.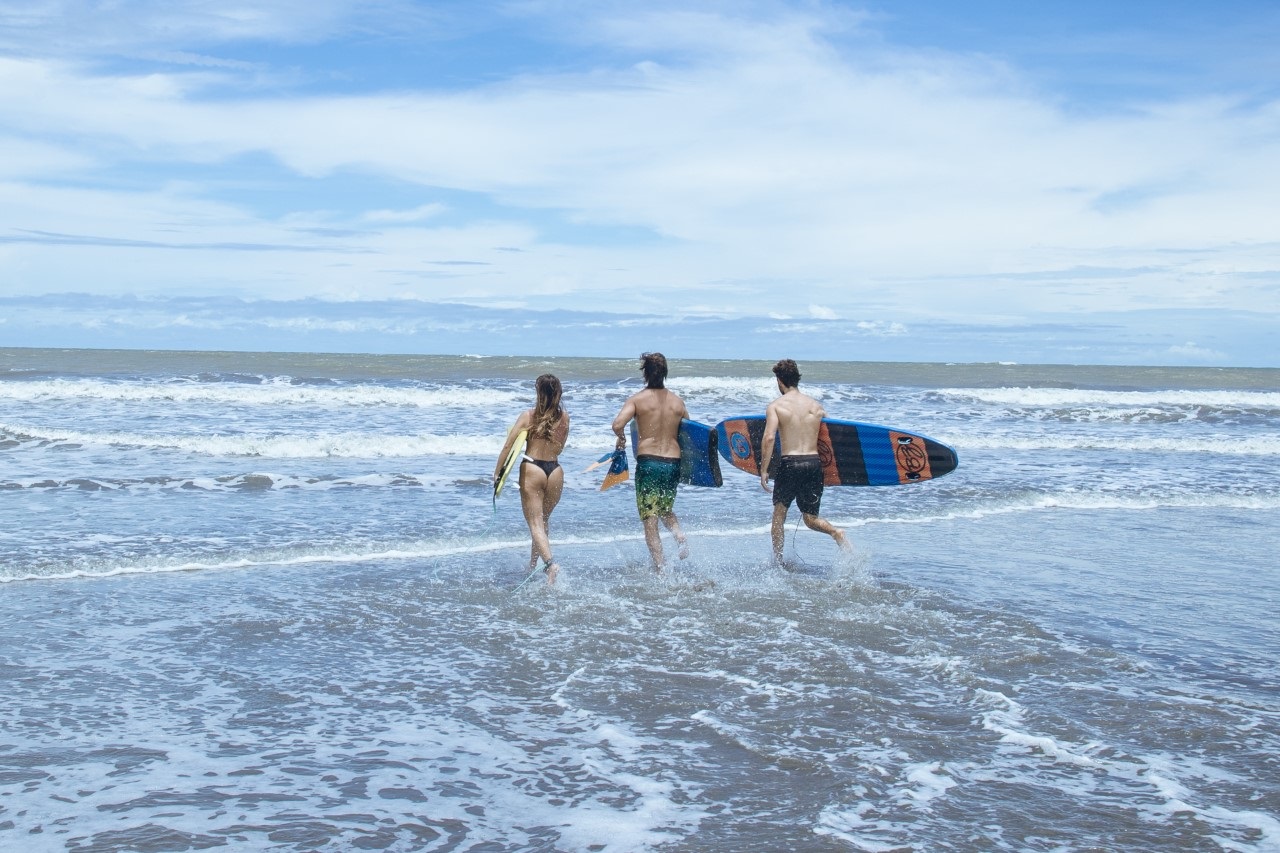 Panama has many natural resources to enjoy such as its beautiful beaches along the Pacific and Atlantic beaches, exuberant vegetation, with a great diversity of flora and fauna, numerous islands along its coasts, beautiful coral collections, and a great variety of peaces in its seas. Panama is a tropical paradise to discover and enjoy.
The AARP Magazine (American Association of Retired Persons) has classified Panama as one of the four most important destinations to live abroad. If you have dreamed of finding a tropical paradise with white sands, beautiful landscapes, rich biodiversity, all kinds of modern life facilities and a population that invites you to feel at home, then Panama is your ideal destination.
Tropical climate all year
Cold if you go to the mountains
Lush vegetation and fauna
Beautiful beaches on the Atlantic and the Pacific
You can choose between living in the capital, cities in the interior, countryside, mountains, lakes, beaches and rivers.
top quality water
air without pollution
Free movement of the dollar
Special discounts for all seniors in shops and services
international banking center
Great opportunities to invest
The best malls in America
Numerous housing projects with very affordable prices, for all economic levels
Numerous restaurants with international cuisine, Mexican, Argentine, Brazilian, Swiss, German, Spanish, Indian, Arabic, Panamanian and many more
Events, fairs, large parades, art exhibitions, concerts, plays, day and night entertainment, as well as internal tourism.
International schools in English
prestigious universities
democratic government
Stable economy
Excellent communications system
Labor at affordable prices
General Information about Panama
Panama is a sovereign country of America that is located in the extreme southeast of Central America, which is also its subdivision. Its official name is the Republic of Panama and its capital is Panama City. The republic is made up of 9 provinces and 6 indigenous regions. It limits to the North with the Caribbean Sea, to the South with the Pacific Ocean, to the East with Colombia and to the West with Costa Rica. It has an extension of 77,082 km². Located on the isthmus that joins South America with Central America, its mountainous territory is only interrupted by the Panama Canal. Its population is 3,474,562 inhabitants.
Official Name: Republic of Panama.
Capital: Panama City.
Nationality: Panamanian.
Land Area, Population and Density: 75,517 Km2. squares; 2,839,177 inhabitants, 81 inhabitants per square mile.
Political Division: 9 provinces and 6 counties.
Government: Presidential Republic.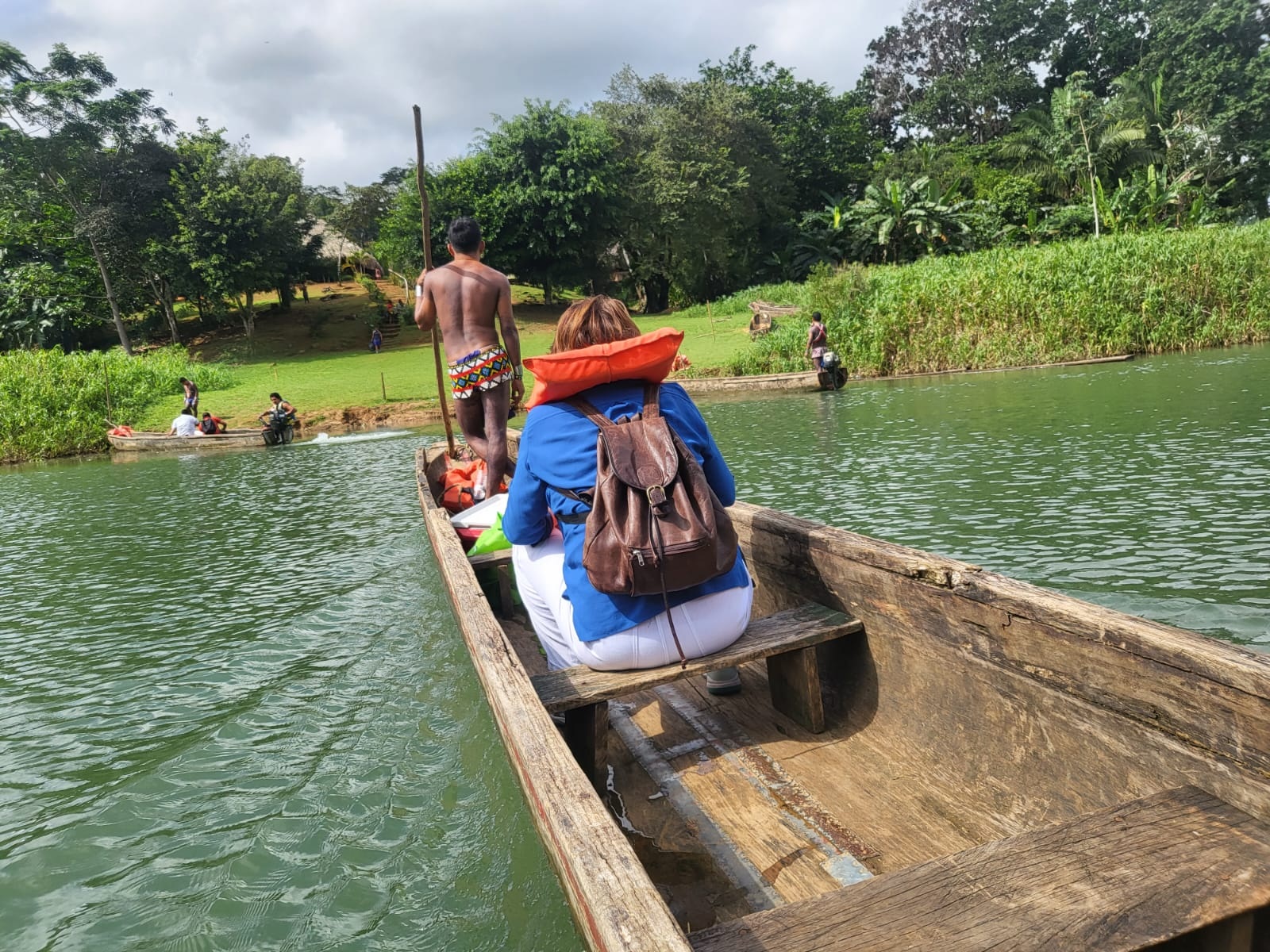 Official language: SPANISH.
Other Languages: English.
Climate: Tropical and the temperature is usually uniform throughout the year. The average temperature is 27 degrees C.
Catolic religion.
Currency: The Balboa and the U.S. dollar. Panama's own coins are equivalent in size and value to those of the United States.
Welcome to Panama
Geographically located in Central America and bathed by the Atlantic and Pacific oceans, Panama has a strategic position to unite the American continent with the world, thanks to the Panama Canal and the Hub of the Americas, through its national and international airlines.
With its sustained economic growth and a great opening to foreign investment, Panama has become the center of many businesses, as well as the residence of citizens from all over the world, who are looking for a friendly, comfortable, safe, economical and beautiful place.
Panama welcomes everyone and Tsar Events Panama will be happy to assist you with any possible needs in Panama Republic!
Tsar Events PANAMA DMC & PCO team will help you with reservation in any hotel in Panama or with planning of any event there.
We opened our office in Panama in 2016. Since then we provided incoming services in Panama for thousands satisfied clients from different countries.
Tsar Events Panama DMC will help you with ANY activity in Panama Republic. It can be:
Business Meetings & Conference
Incentive programs
Special Events
Site-inspections & Famtrips
Event Design, Décor & Production
Transportation & Logistics
Entertainment
Dining Experience
Tour Program
Team Building & CSR
Accommodation selection
If you need anything in Panama Republic, we will be happy to help you to plan and operate your event or program.
Please, look at SAMPLE PROGRAM that we have prepared for you to show what can be organized for your clients in Panama.
Just let me know and we'll prepare tailor made program for you to face all your individual requirements.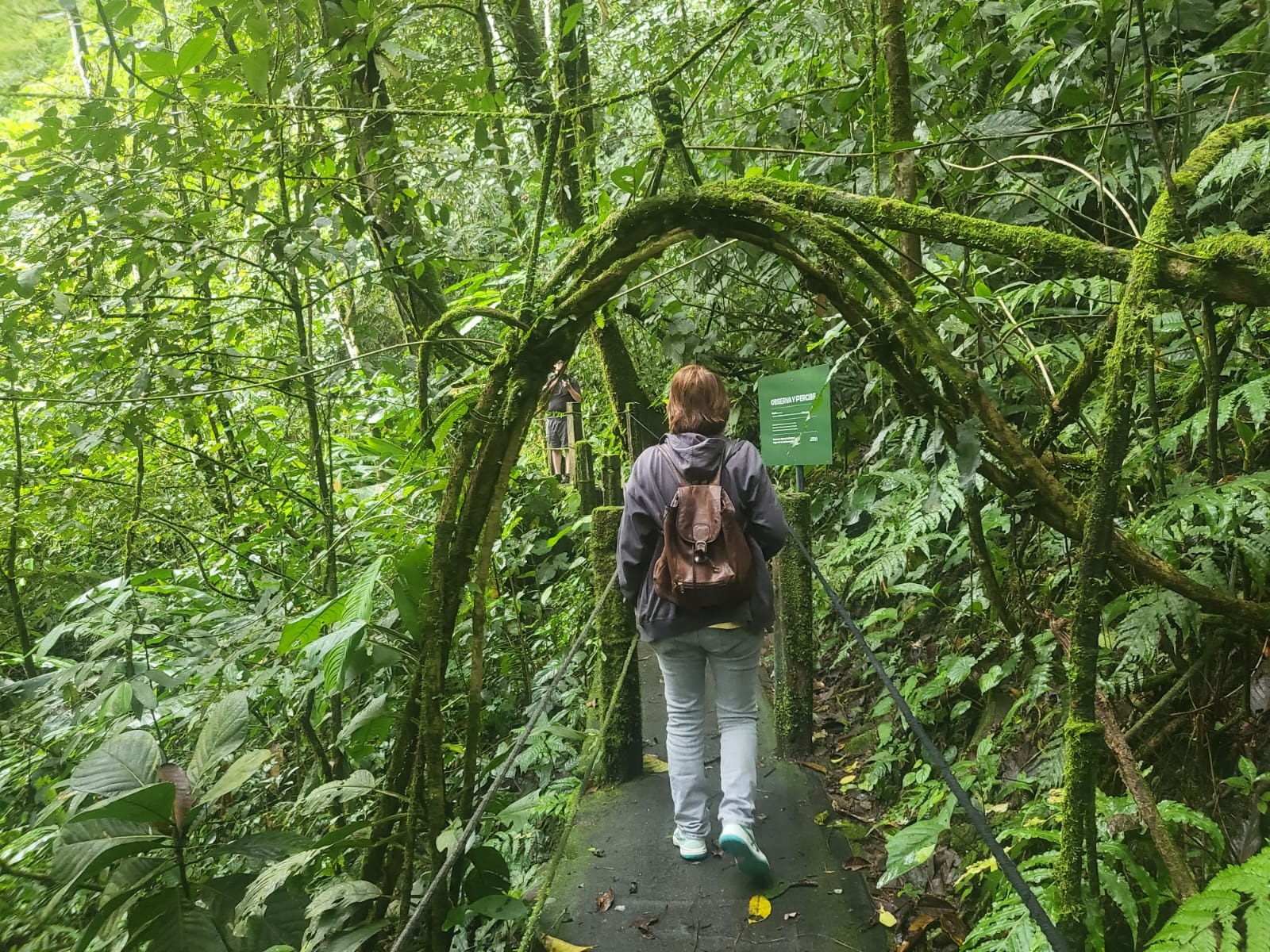 Tsar Events Panama DMC can help you with your clients who wants to have private tailor-made program while their ship stops in Panama port. We provide all types of Ground Handling Services for Cruise Lines in Panama ports.
For Groups & Individual guests arriving to Panama by Cruise ships we will help you with:
Tailor made shore excursions, cultural sightseeing, outdoor adventures, discovery tours
Private Transportation & Guides for tailor made itineraries (WE OWN OUR OWN FLEET)
Delightful lunch & Dining, Dine around, Gala dinners, Catering services
Special Interest Tours
Hotel sugestions & booking
Limousine & Private Cars & VIP Sevices
Musical Enterainement & Performers, Shows
Co-ordinating pre and post-cruise stays (hotels, transfers and assistance)
Other Destination Management Services