Panama Canal begins the process of decarbonization of its operations.
27 April 2021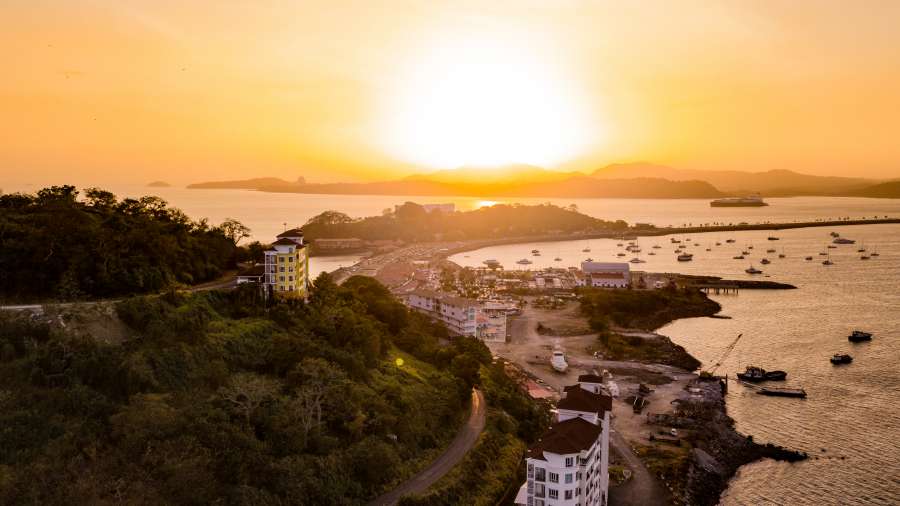 The Panama Canal has launched its process of decarbonizing its operations, with aims of becoming carbon neutral by 2030
While the Panama Canal contributed to a reduction of more than 13 million tons of CO2 equivalent emissions in 2020 by offering a shorter route for ships in comparison to the most likely alternative routes, the waterway said it recognises the importance of making its own operation carbon neutral by the end of the decade.
To begin the transition to a greener Canal, the waterway purchased four electric vehicles as part of a pilot programme that will collect data to inform the migration of the Canal's entire fleet away from fossil fuel dependence.
Part of its strategic decarbonization plan also includes tugboats and launches that use alternative fuels, the substitution of electricity production processes in favour of photovoltaic plants, the use of hydraulic energy, and ensuring that all facilities and infrastructure projects are environmentally responsible and sustainable.
The Panama Canal first began tracking its carbon footprint in 2013 to align its operations with the global objectives of reducing emissions to mitigate and adapt to climate change. Its plans to become carbon neutral were bolstered in 2017 with the launch of its Emissions Calculator, a tool that not only allows shipping lines to measure their greenhouse gas (GHG) emissions per route, but also strengthens the Canal's analysis of the emissions produced by its own day-to-day operations.
Source: https://www.porttechnology.org/news/panama-canal-begins-transition-to-become-carbon-neutral-by-2030/
The five-year plan outlines ATP's strategy for the relaunch of the country as a tourism destination, following its post-pandemic reopening on October 12.
"The Sustainable Tourism Master Plan is a differentiation strategy, through innovation and sustainability, highlighting the natural and cultural heritage of Panama," said Panama's Minister of Tourism Ivan Eskildsen.
"Our heritage offerings lead as an invaluable asset in the midst of an uncertain global environment, proving to be a competitive edge with strong authenticity that our country can confidently stand by."
The plan reactivates Panama's Tourism, Conservation and Research (TCR) strategy applied in Panama over 20 years ago by the prestigious ecologist Dr. Hana Ayala. The TCR Strategy positions the country's conservation and sustainability efforts at the forefront, along with its unique nature, culture and historic offerings, capitalizing in the overall safety that Panama offers.
The updated TCR Heritage Routes strategy now features three focus areas: Cultural Heritage, Green Heritage and Blue Heritage. Comprised of 19 circuits that tell the stories of Panama, the plan was developed through thorough analysis and research conducted in multiple workshops with the help of local and international consultants, the Smithsonian Tropical Research Institute (STRI), the academic team of the Biomuseo (Biodiversity Museum), the Ministry of Environment, and the Ministry of Culture, the Panamanian travel industry, and other key organizations.
The Heritage Routes are distinct in their offerings:
Cultural Heritage: Narrates the history of Panama as the Bridge of the World, connecting world class attractions such as Casco Antiguo (UNESCO World Heritage), the world-famous Panama Canal, the first interoceanic railway, among others. Also, the cultural circuits showcase Panama's multicultural diversity, offering experiences across Panama's three main cultures: its 7 living indigenous groups, its Afro-Panamanian heritage including the Congo culture (UNESCO Intangible Heritage), and its colorful Spanish colonial culture. Panama's cultural diversity is also experienced in its gastronomy, where UNESCO has recognized Panama City as a creative city in gastronomy.
Green Heritage: Ever since the Panama isthmus was formed 3 million years ago, it produced a great exchange of species between North and South America, providing the country with an extraordinary biodiversity: it holds more species of birds, reptiles, mammals and trees than the US and Canada together. The Green Heritage routes take the visitor across National Parks, protected areas and private reserves in Panama's neotropical rainforest (one third of the country is protected), including experiences through the Smithsonian Tropical Research Institute's visitor centers, one of which is the Barro Colorado Nature Monument in the Panama Canal watershed, considered the most intensively studied tropical forest in the world.
Blue Heritage: Three million years ago, with the creation of the land bridge of the Panama Isthmus, the Caribbean and Pacific Oceans were separated, becoming two different oceans in terms of tides, climate, and marine fauna. The experiences offered across the various ecosystems in the Blue Heritage Routes, include whale-watching surrounding Coiba National Park (UNESCO World Heritage Site) and admiring turtle conservation projects in the Pacific Ocean, as well as exploring the Caribbean turquoise waters of Bocas del Toro, recognized as a Hope Spot by Mission Blue, the initiative led by National Geographic Explorer Dr. Sylvia Earle.
Panama's PMTS renews the country's tourism strategy and hope for the industry's progressive reactivation post-pandemic. The destination's first international push for the relaunch of tourism is the Experience Panama Expo, a virtual fair taking place September 25-27, featuring local exhibitors and international buyers, which also coincides with a virtual meeting of ministers from the region.
The PMTS also includes an important component of community-based tourism, which connects with a flagship project of Panamanian President Laurentino Cortizo's administration, the Colmena ("Beehive") Plan, which seeks to improve the development of the 300 townships with the greatest socioeconomic vulnerability in the country. Paradoxically, some of these communities have a rich natural and cultural heritage, mainly Indigenous and Afro-Panamanian communities, that can offer discerning travelers the experience of authentic living cultures, surrounded by pristine ecosystems, included within the Heritage Routes.
The five-year plan focused on the reactivation of the country's tourism industry represents an estimated investment of $301.9 million including investments made through the Tourism Promotion Fund (PROMTUR), and financed by an approved loan with the Inter-American Development Bank (IDB).
Test source: ftnnews.com
SPANISH TEXT:
Aprobado el Plan Maestro de Turismo Sostenible 2020-2025 en Panamá
La Autoridad de Turismo de Panamá (ATP) anunció la aprobación unánime de su Plan Maestro de Turismo Sostenible 2020-2025 (PMTS) por parte del Consejo Nacional de Turismo, principal organismo público-privado para la gestión del sector turístico en Panamá.
El plan quinquenal esboza la estrategia de la ATP para el relanzamiento del país como destino turístico, tras su reapertura post-pandémica el 12 de octubre.
"El Plan Maestro de Turismo Sostenible es una estrategia de diferenciación, a través de la innovación y la sostenibilidad, que pone de relieve el patrimonio natural y cultural de Panamá", dijo el Ministro de Turismo de Panamá, Ivan Eskildsen.
"Nuestra oferta patrimonial se lidera como un activo invaluable en medio de un ambiente global incierto, demostrando ser una ventaja competitiva con una fuerte autenticidad que nuestro país puede respaldar con confianza".
El plan reactiva la estrategia de Turismo, Conservación e Investigación (TCR) aplicada en Panamá hace más de 20 años por la prestigiosa ecologista Dra. Hana Ayala. La estrategia TCR coloca a la vanguardia los esfuerzos de conservación y sostenibilidad del país, junto con su naturaleza única, su cultura y sus ofertas históricas, capitalizando la seguridad general que ofrece Panamá.
La estrategia actualizada de las Rutas Patrimoniales de la TCR incluye ahora tres áreas de enfoque: Patrimonio Cultural, Patrimonio Verde y Patrimonio Azul. Compuesto por 19 circuitos que cuentan las historias de Panamá, el plan fue desarrollado a través de un análisis e investigación minuciosos realizados en múltiples talleres con la ayuda de consultores locales e internacionales, el Instituto Smithsonian de Investigaciones Tropicales (STRI), el equipo académico del Biomuseo (Museo de la Biodiversidad), el Ministerio de Ambiente y el Ministerio de Cultura, la industria turística panameña y otras organizaciones clave.
El SMPT de Panamá renueva la estrategia turística del país y espera la reactivación progresiva de la industria después de la pandemia. El primer impulso internacional del destino para el relanzamiento del turismo es la Experience Panama Expo, una feria virtual que se celebra del 25 al 27 de septiembre, en la que participan expositores locales y compradores internacionales, y que también coincide con una reunión virtual de ministros de la región.
El PMTS también incluye un importante componente de turismo comunitario, que se conecta con un proyecto emblemático de la administración del presidente panameño Laurentino Cortizo, el Plan Colmena, que busca mejorar el desarrollo de los 300 municipios con mayor vulnerabilidad socioeconómica del país.
Paradójicamente, algunas de estas comunidades cuentan con un rico patrimonio natural y cultural, principalmente comunidades indígenas y afropanameñas, que pueden ofrecer a los viajeros exigentes la experiencia de culturas vivas auténticas, rodeadas de ecosistemas prístinos, incluidas dentro de las Rutas del Patrimonio.
El plan quinquenal centrado en la reactivación de la industria turística del país representa una inversión estimada de 301,9 millones de dólares, incluidas las inversiones realizadas a través del Fondo de Promoción Turística (PROMTUR) y financiadas mediante un préstamo aprobado con el Banco Interamericano de Desarrollo (BID).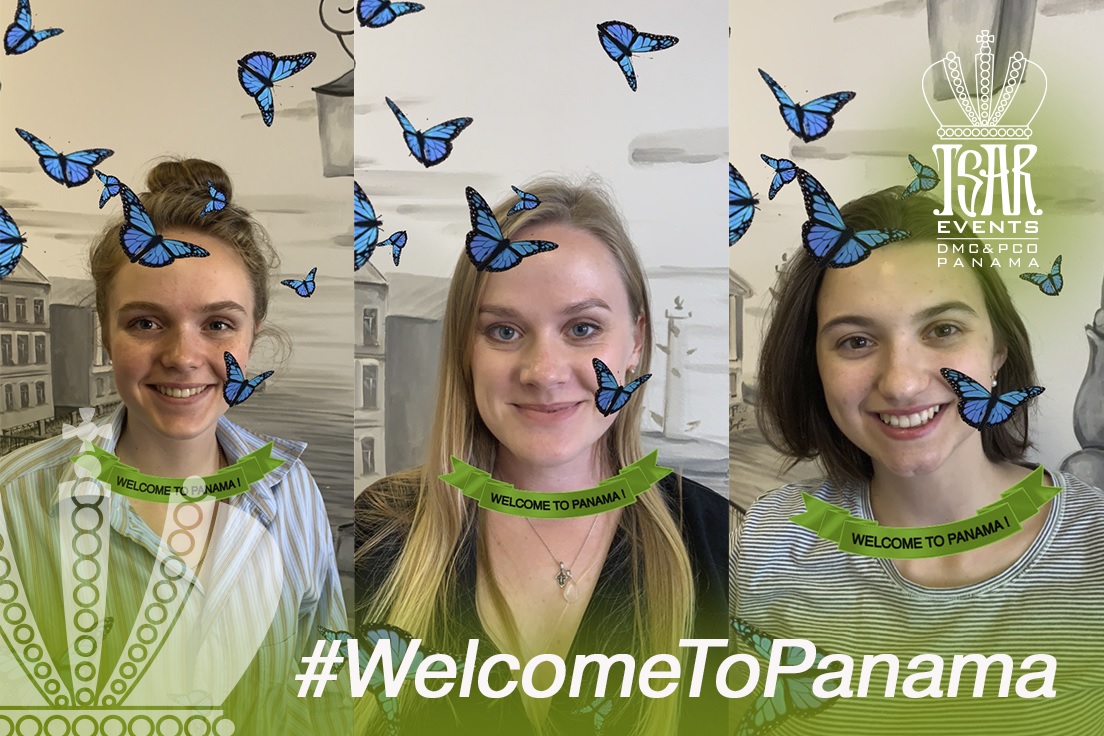 Tsar Events Panama DMC & PCO Team has created Instagram Mask "Welcome to Panama" to raise awareness about Panama Travel Potential and started Instagram flash mob to promote possibilities of Panama for Meetings, Incentives, Congresses, Events and Leisure tourism.
We invite you to become part of our flash mob on Instagram and other social media using our masks and putting hashtag #WelcomeToPanama.
You can add our mask from Tsar Events Panama account @tsarevents_panama to your Instagram camera and upload video or picture to your stories or your feed.
Also, you can follow our accounts in other social media:
Instagram in English: https://www.instagram.com/tsarevents_panama/
Instagram in Spanish https://www.instagram.com/tsar.events.espanol/
Facebook: https://www.facebook.com/TsarEventsPanama
Youtube: https://www.youtube.com/user/TsarEventsDMC
Twitter in English: https://twitter.com/TsarPanama
Twitter in Spanish: https://twitter.com/TsarEventsPanEs
LinkedIn: https://www.linkedin.com/company/65816956
If you need any assistance with hotel selection and reservation, getting tickets or private tour in any museum in Panama City, or help with transportation or organzing event you can always ask team of Tsar Events Panama DMC & PCO. Also we can help you with planning your special event, cultural or incentive program, conference and congress in Moscow or St. Petersburg or other CIS countries.
Tsar Events Destination Management Company & Professional Congress Organizer provides all MICE services in all Russian cities.
Tsar Events Russia DMC & PCO is existing on the market already 10 years and we have very long list of satisfied clients and successful events.
We can help you in RUSSIA, UKRAINE, BALTIC STATES, BELARUS with any MICE needs. and with planning, organizing and operating of:
Meeting & Congress
Incentive Program
Cultural or Special Interest Professional Group
Theme Parties & Special Events
Hotel accommodation
Transportation and Staff logistics
Team-Building Activities
Venues & vendors Selection
Why Tsar Events Russia DMC & PCO?
The only CMP (Certified Meeting Professional) in Russia. Managing Director & Founder of the company Alexander Rodionov is the only CMP in the country (since 2010)
The first DMCP (Destination Management Certified Professional) in Russia! Managing Director & Founder of the company Alexander Rodionov is the first DMCP in the country (since 2011)
The only CITP (Certified Incentive Travel Specialist) in Russia. Managing Director & Founder of the company Alexander Rodionov is the only CITP in the country (since 2019)
We are the only company in Russia where all project managers are CIS (Certified Incentive specialist) - since 2019
We are the first Accredited Destination Management Company (ADMC) in Russia (since 2015).
We wrote book Russia Survival Guide - first Book-instruction for Meeting planners who is organizing event in Russia. Published in 2013 and available online and in bookstores (sold more than 20 000 books).
We created Russia Survival Guide Vlog – first Russian MICE Theme YouTube Channel with instructions for Meeting planners who is organizing event in Russia (since 2018, more than 300,000 views)
We are winner of 4 (four!) World Travel Awards in category Russia's Leading Destination Management company
Winner of ADME International Recognition Award 2016 in category Destination Management Professional of the Year, won by Alexander Rodionov, DMCP, CMP, CITP, Managing Director & Founder of Company
We are winner of ADMEI Achievements Award 2020 in nomination «Best Tour Program» with incentive BMW Baltics «Dreamland Program» in Moscow
We are finalist of ADMEI Excellence Award 2020 in nomination «Excellence in Meeting Services» with SPIMUN 2019 (St. Petersburg International Model United Nations Conference)
We are finalist of ADMEI Excellence Award 2016 in nomination «Excellence in Entertainment Production» with SPIMUN 2015 (St. Petersburg International Model United Nations Conference)
We are finalist of ADMEI Excellence Award 2019 in nomination «Excellence in Cultural and Tradition Integration» with our event Gala Dinner at Moscow GUM for FIFA World Cup 2018 Coca Cola Global Hospitality Program
We are the first Russian DMC opened Franchised office outside of Russia opening Tsar Events Panama DMC & PCO providing services in Panama Republic
We organized more than 600 events during 10 years of providing MICE services in Russia, CIS countries and Panama
We provided service for more than 90000 clients during 10 years working in Russia, CIS countries and Panama
We are helping to develop MICE industry in Russia collaborating with local Travel universities and colleges providing work places for students and graduates
Our Project Manager Ekaterina Antonova, CIS is the winner of 2019 Linda Thompson Memorial Scholarship supported by ADME International
We are promoting and supporting responsible consuming during planning and program execution process selecting only suppliers and activities answering ethical and ecological requirements
Together with local public schools we are supporting new generation and promoting United Nations values organizing annual non-profit event - SPIMUN (St. Petersburg International Model United Nations Conference) during 10 years already
Our team members never stop personal and professional development regularly participating in global MICE industry educational events like SITE Global conferences, MPI WEC, ICCA Annual congress
Every week we are creating for you new concepts, themes, and activities and select venues vetting and choosing the best suppliers in our destinations
We are small company (only 9 team members) and every projects becomes our "baby" and every clients becomes our family member for life