Latin American & Caribbean Tyre Expo 2023 will be at Amador Convention center 14- 16 June in Panama
03 August 2022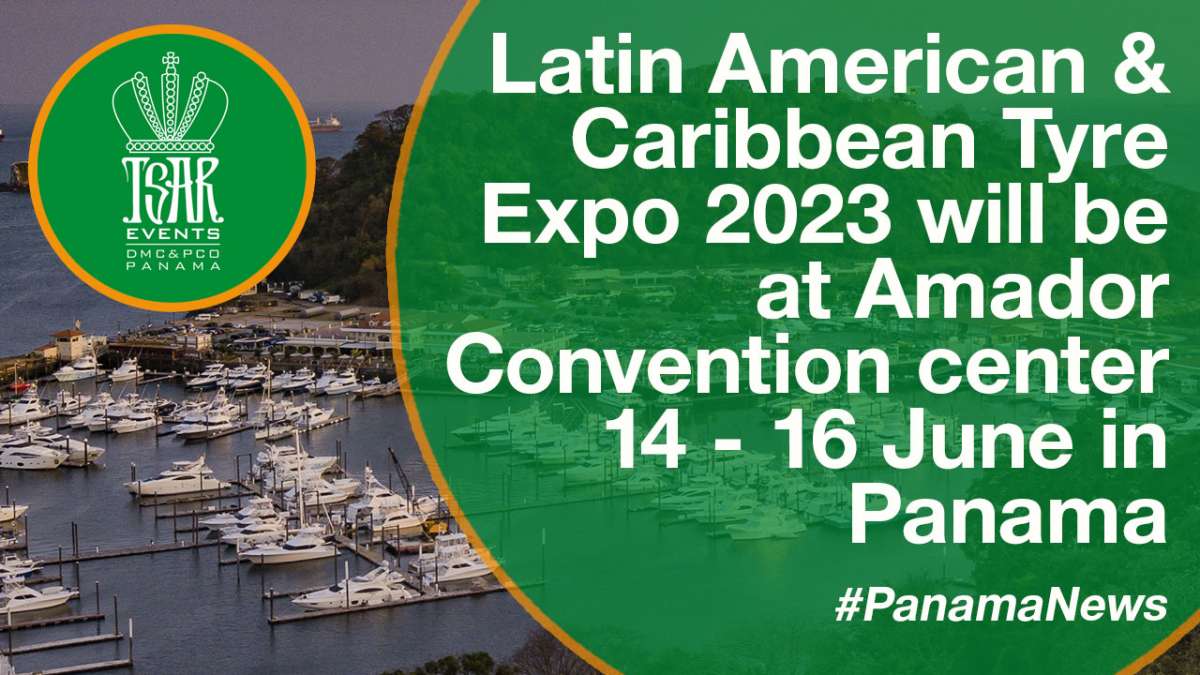 Latin American & Caribbean Tyre Expo 2023 will be at Amador Convention center 14- 16 June I Panama
The LATIN TYRE EXPO and the LATIN AUTO PARTS EXPO are the most important tire and auto part shows in Latin America and the place to be if you want to grow your business in Latin America and the Caribbean!
The upcoming edition will be in the all-new Amador Convention Center in Panama which features 59,000 m2 of space. Almost 400 international exhibitors will be present, from tire manufacturers, tire service and repair companies, retreading, wheels, auto part manufacturers, auto service, tools, and equipment, etc.
Educational and training sessions with top industry leaders, networking events, and much more are included with your registration.
Panama Convention Center .
Completed in 2020, the Panama Convention Center (PCC) reigns as the largest, most technologically advanced, convention center in the region with a capacity of up to 23,000 guests. The impressive structure is strategically located on the banks of the canal, on Amador road, and stands out for its modern design.
The PCC sits on 13.8 green hectares and boasts 61,175 square meters of configurable and contiguous interior areas. The convention center offers unparalleled panoramic ocean views of the Pacific entrance of the Panama Canal and will soon be further complemented by the new Isla Perico Cruise Terminal.
Only a ten-minute drive from the heart of Panama City, the PCC is close to delicious restaurants, historical sites, and museums like the Biomuseo.
At a Glance
Exhibition Hall

15,400 square meters
can be divided into three different rooms
offers 10 loading docks and three drive-in access ramp
<
Meeting Rooms

16 meeting rooms with 2,400 square meters of space divided into various sizes that can be configured for a multitude of requirements.
ample pre-function space with modern lighting and beautiful natural views

Atrium Lobby
Banquet Halls

4,000 square meters of space (the largest ballroom in Panama)
can serve 2,000 guests in a banquet setting for dinner, and over 4,000 guests can be organized in a theater-style setting.

Parking and Transportation

1,700 parking spaces with various entrances, including a special area for buses
The PCC team can provide exhibitors and meeting planners with services like electrical, plumbing, telecommunications, compressed air, water supply, drainage, and cleaning to ensure your event is stress-free and successful.
If you need anything in Panama Republic, we will be happy to help you to plan and operate your event or program.
Please, look at SAMPLE PROGRAM that we have prepared for you to show what can be organized for your clients in Panama.
Just let me know and we'll prepare tailor made program for you to face all your individual requirements.
Tsar Events Panama DMC can help you with your clients who wants to have private tailor-made program while their ship stops in Panama port. We provide all types of Ground Handling Services for Cruise Lines in Panama ports.
For Groups & Individual guests arriving to Panama by Cruise ships we will help you with:
Tailor made shore excursions, cultural sightseeing, outdoor adventures, discovery tours
Private Transportation & Guides for tailor made itineraries (WE OWN OUR OWN FLEET)
Delightful lunch & Dining, Dine around, Gala dinners, Catering services
Special Interest Tours
Hotel sugestions & booking
Limousine & Private Cars & VIP Sevices
Musical Enterainement & Performers, Shows
Co-ordinating pre and post-cruise stays (hotels, transfers and assistance)
Other Destination Management Services