Three new Wingo routes take off in November from the Panama Pacifico International Airport
25 November 2022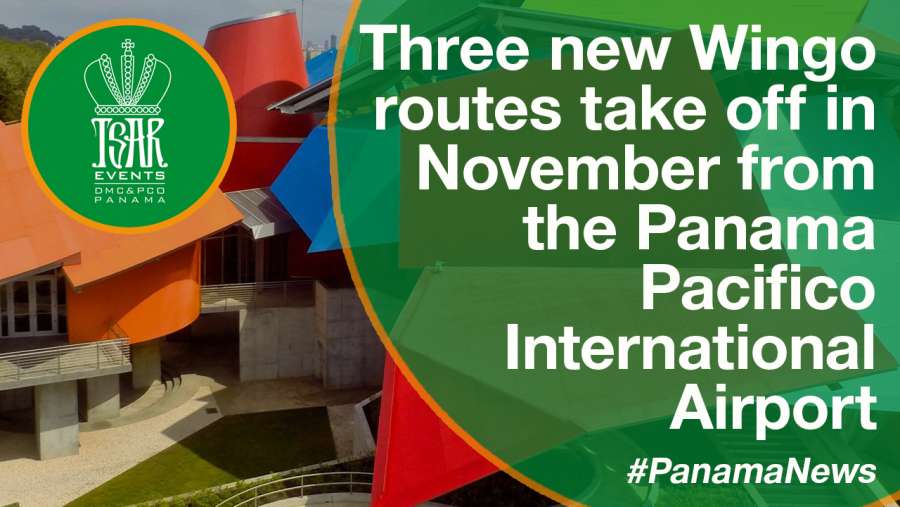 During the month of November, the routes that will connect Panama with these three capitals of Central America and the Caribbean begin.
Wingo makes available to Panamanians more than 10,000 chairs per month to enjoy these new destinations. The low-cost airline reaches a total of eight international routes operated to and from Panama City.
Panama City, November 21, 2022. Three new Wingo routes take off in November from the Panama Pacifico International Airport to the capitals of Cuba, the Dominican Republic and Costa Rica. These three new routes will be operated on modern Boeing 737-800 Next Generation aircraft, with the capacity to transport 186 passengers.
The first route to take off has been the route between Panama and San José de Costa Rica, which began its reactivation on November 8 with three weekly frequencies on Tuesdays, Wednesdays and Saturdays. Wingo has made 4,500 seats available to the market on the two legs of this route, with prices starting at USD 84 per leg.
The second route to start operations will be the one that connects Panama and Havana. This flight will take off for the first time on Tuesday, November 22, and will operate twice a week, on Tuesday and Saturday. In total, the airline will make available to the market about 3,000 seats per month between Panama - Havana - Panama with rates that start at USD 104 each way.
Finally, Wingo will connect Panama with Santo Domingo for the first time in its route network. This operation will have two frequencies a week, exactly on Thursday and Sunday. The route will take off on November 24, when Wingo makes available about 3,000 seats per month between both routes: Panama – Santo Domingo – Panama. Fares for this flight start from USD 103 each way.
With the reactivation of the route between Panama and San José de Costa Rica and the start of operations to Santo Domingo and Havana; Wingo strengthens its operational footprint in the country with a network that already reaches eight international routes. These three flights are added to the routes already served to the Colombian cities of Bogotá, Medellín, Cali, Cartagena and Barranquilla; the latter also began operations on October 6.
"Wingo continues to consolidate its operation in Panama by offering flights to these three Latin American capitals. We will continue with our efforts to incorporate new destinations that are attractive to Panamanians. On the other hand, the opening of these three routes allows the citizens of Cuba, the Dominican Republic and Costa Rica to have a direct flight option to Panama with a competitive price alternative, with a rate reduction of close to 40% if compares it with the other options in the market", expressed Jorge Jiménez, Commercial and Planning Director of Wingo.
For his part, the general manager of Tocumen International Airport and regional terminals, Raffoul Arab, said: "We are very excited about the simultaneous inauguration of two new routes by Wingo to Santo Domingo, in the Dominican Republic, and to Havana, Cuba. These operations from the Panama Pacifico International Airport demonstrate confidence in Panama and our commitment to the country's economy, connectivity and tourism, by providing more and better travel options."
"Air connectivity is essential for economic development and tourism, therefore, modernizing our airport facilities is a priority for our administration. In this sense, we are developing a project to increase the capacity of the Panama Pacifico Airport to serve the growing number of aircraft and offer better passenger service," added Arab. Text source: tocumenpanama.aero
If you need anything in Panama Republic, we will be happy to help you to plan and operate your event or program.
Please, look at SAMPLE PROGRAM that we have prepared for you to show what can be organized for your clients in Panama.
Just let me know and we'll prepare tailor made program for you to face all your individual requirements.
Tsar Events Panama DMC can help you with your clients who wants to have private tailor-made program while their ship stops in Panama port.
We provide all types of Ground Handling Services for Cruise Lines in Panama ports.
For Groups & Individual guests arriving to Panama by Cruise ships we will help you with:
Tailor made shore excursions, cultural sightseeing, outdoor adventures, discovery tours
Private Transportation & Guides for tailor made itineraries (WE OWN OUR OWN FLEET)
Delightful lunch & Dining, Dine around, Gala dinners, Catering services
Special Interest Tours
Hotel sugestions & booking
Limousine & Private Cars & VIP Sevices
Musical Enterainement & Performers, Shows
Co-ordinating pre and post-cruise stays (hotels, transfers and assistance)
Other Destination Management Services