Panama is preparing to receive the pilgrims who will visit us for World Youth Day in 2019
14 September 2017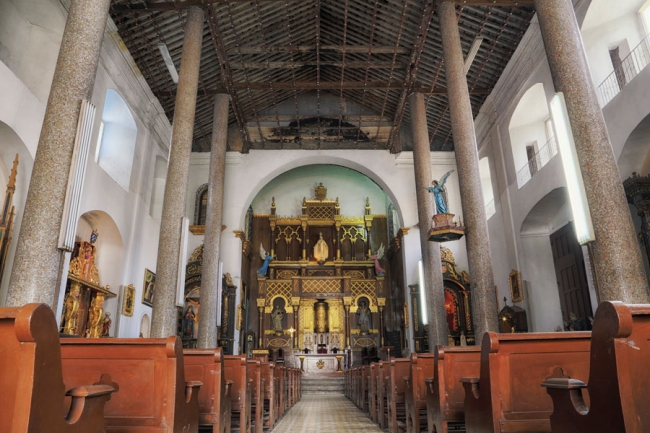 Since it emerged from the sea 3 million years ago, impacting the planet's biodiversity, the destiny of our small isthmus has been to connect the world as a natural bridge. With the inauguration of the Panama Canal 102 years ago, we honored that destiny and now we will be a meeting point for the youth in this global cultural and faith event.
In every corner, from our coasts to the green roads in the Highlands, one can feel the thrill of this great news. A cheerful and hospitable people take pride in welcoming the young people of the world, to show our country and to share our culture.
In Panama there is a whole universe to discover. Different rhythms, landscapes sporting thousands of colors and two oceans at your doorstep, spice up the flavors of our kitchen. A modern city, flanked by two ancient cities, will tell you the history of a country called Panama, whose natural and architectural wealth is a World Heritage Site and where we want you to feel at home.
We thank Pope Francis for choosing us and welcome all of his followers.
The Republic of Panama is located on an isthmus that extends over 75,517 square kilometers, joining Central and South America. It is bordered on the North by the Caribbean Sea and on the South by the Pacific Ocean. By ground, it's limited with Colombia on the East and Costa Rica on the West.
Panama is populated by more than 4 million inhabitants, a harmonious fusion of races and cultures that create one of the most warm-hearted and happiest countries of Latin America.
The name «Panama» is of indigenous origin and historians have assigned many meanings to it: abundance of fish, abundance of butterflies and the name of a majestic tree.
Panama stands out as the country with the highest economic growth in Latin America and maintains a privileged position in important developmental qualities. In addition, its geographic location allows for providing the world with a great variety of modern financial, commercial and logistic services.
About TSAR EVENTS PANAMA DMC & PCO:
Tsar Events Panama DMC & PCO provides international experience, destination know-how and expert local services to ensure that in the end, your congress or event will be called a success. Our experience and attention to detail in every aspect of our client's event ensure that they avoid the pitfalls in the organizational process. We provide a uniformly high level of service.
Tsar Events Panama is the only Panamanian DMC & PCO managed by:
A Certified MEETING Professional

(CMP

) — a globally recognized professional accreditation for meeting management.
A Certified DESTINATION MANAGEMENT Professional

(DMCP

) — a globally recognized professional accreditation for destination management.
From «concept to reality», our services and events are designed to meet the creative, motivational and budgetary needs of the professional meeting planner. We work with you from the initial concept and design through to successful program execution. Through one point of contact we are proud to provide our clients with:
Destination Communication
Incentive & Cultural Programs
Theme Parties and Special Events
Meeting Planning Services
Ground Transportation Services
Tsar Events Russia DMC & PCO has opened thier office in Panama City to help our clients with their events in Republic of Panama. Now we can help you with ANY activity in Panama Republic. It can be:
incentive or cultural trip
meeting or congress
special event – wedding or gala dinner
transportation or accommodation service.
Please, look at SAMPLE PROGRAM that we have prepared for you to show what can be organized for your clients in Panama. Just let us know and we'll prepare tailor made program for you to face all your individual requirements.